Posted by Hippy Pilgrim on Feb 2nd 2022
I am one of four kids and grew up watching my mom cook from scratch. She didn't have a fancy kitchen, high end appliances or the latest gizmos and gadgets. Her tools were her hands and her space was minimal but she got the job done. She was resourceful and always found a way to pull recipes off. Instead of a food processor, she put nuts in a baggie and banged away. She used Ziploc Bags as makeshift pastry bags. She whisked egg whites by hand if she had to. Yet her food always looked beautiful and tasted spectacular.
My interest in food began by watching my mother feed four hungry kids three times a day seven days a week from scratch. By seventh grade she let me cook on my own. It was also in junior high that I took my first Home Economics Class with a whole block of hands-on cooking. We made chocolate chip cookies, cinnamon pin wheel cookies, quick breads and pies. Many failures occurred but my love of cooking only strengthened throughout high school.
When I got to college, I learned dorm cooking which was essentially a hot pot and microwave. I actually pulled off a tasty shrimp scampi using both of these appliances. I got housing with a kitchen by my junior year and senior year I had a spacious kitchen in an off-campus apartment that cost my dad just $300 a month. I worked at the local grocery store and brought home funky ingredients weekly to try out new recipes. I had a blast in that kitchen and the time spent cooking in solitude helped me build my confidence in the kitchen. Cooking became a hobby not a necessity.
My first home as a married woman with kids had a roomier kitchen but by no means was it fancy. It was a basic starter home kitchen. I didn't care. I raised my young boys in this kitchen and watched them make their first banana bread in their undies. It was in this kitchen that I made my audition tape for the pilot season of Next Food Network Star in 2005. I was the only home cook to make it on the show and ended up placing fourth. Proof once again that you don't need a fancy kitchen to cook spectacular meals.
In 2009 my home became a casualty of divorce and the recession. My next kitchen was an apartment kitchen, cooking now had to save me money as a single parent and surprisingly I liked this kitchen better than the kitchen in my old house. It had a great island with plenty of storage and I cooked for my two kids there for the next five years. Apartment living brought us closer together quite literally because we now shared a smaller space and physically saw one another more. I'll never forget the day one of my son's friends came over while I was making dinner. He told me I don't look like his mom in the kitchen. He said his mom looked angry when she made dinner. He was surprised I was playing music and smiling while making dinner. Cooking was my escape from stress, my creative outlet and I loved it. By the time we moved out, Hippy Pilgrim was born. This headshot was taken in my apartment kitchen before moving out.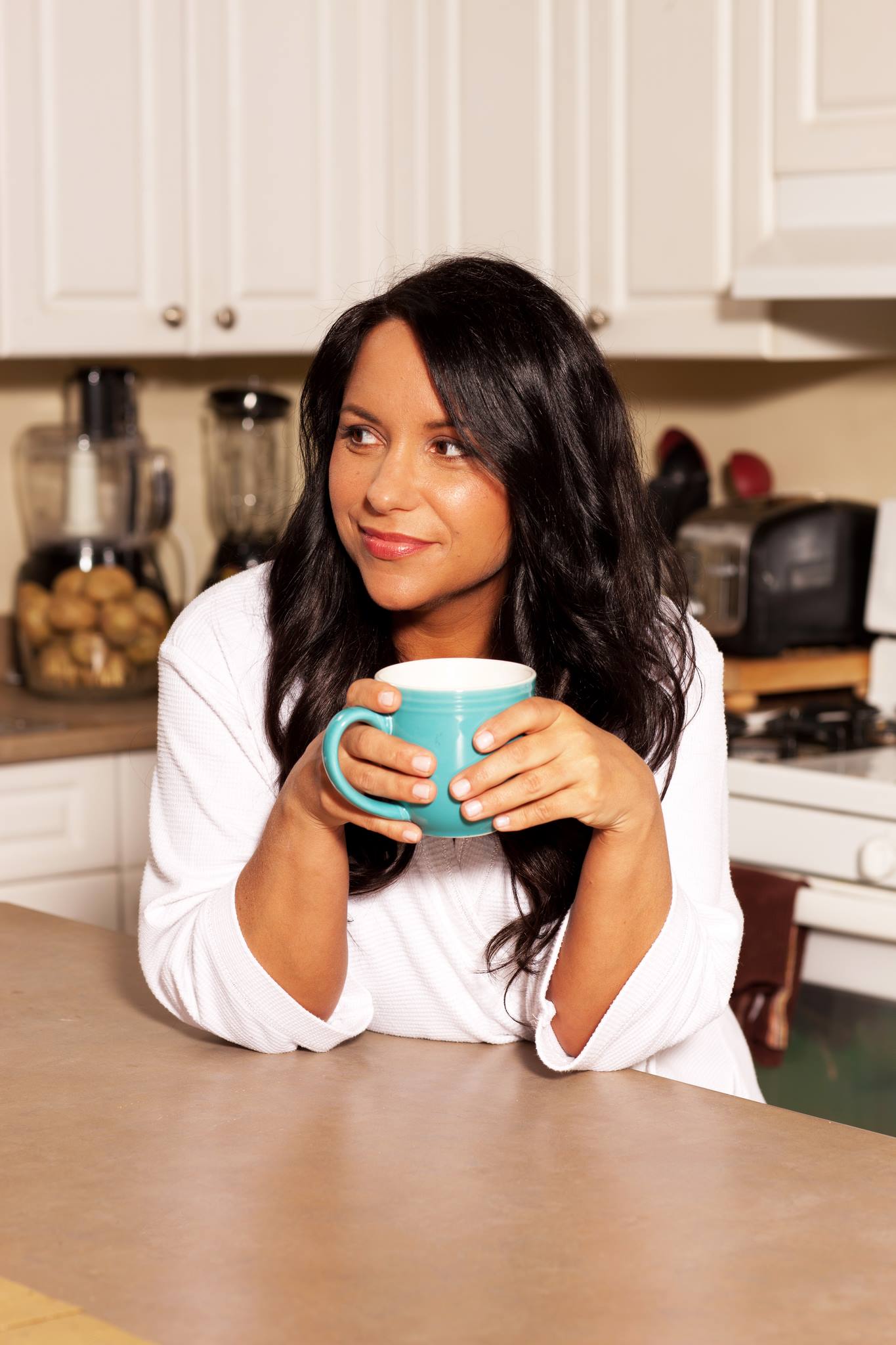 In 2014 I had enough of apartment life with my boys and craved the privacy and comfort a home offered. Not in a position to purchase, I found my current home which was a house rental. It was the only home for rent in the town of Plympton and I fell in love with the land and the small Cape style home that rested on it. Twenty-five people applied to rent this house, yet the owners felt we would be the best tenants. I was so grateful this couple Rob and Cori chose us because I truly felt I was meant to live in this home. A year or so later the couple then sold us the house after opting to move out of state. I was back in a home I could call my own. This house had the simplest of kitchen. No frills, no island, no storage, a dishwasher on its last legs but it was mine. I cooked up a storm in this kitchen and made batch after batch of garlic salt until quite literally the doors started to fall off of the cabinets. No lie. I had elastics holding doors closed or had to just rip doors off because it was a safety hazard. I needed a new kitchen before this one decided to cave in.
As I write, I hear drilling and hammering downstairs. The workers are here and the new kitchen is actually happening. It seems surreal. I get a personalized space to make culinary magic happen.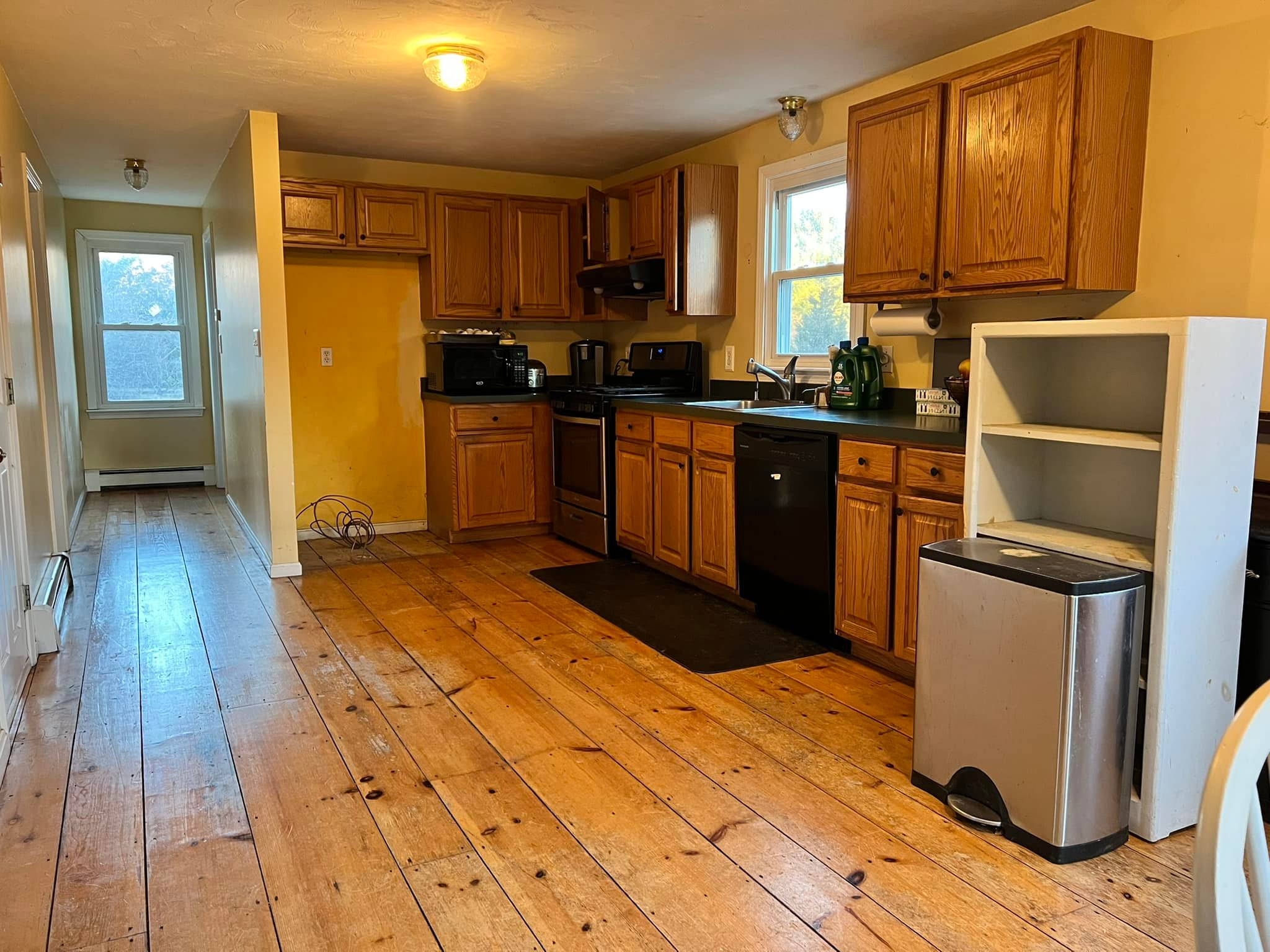 I found Jenny of Full Circle Homes & Farm through word of mouth and loved that she lived in my town. She also happens to co-host Houses with History on HGTV so I felt like with credentials like that I could trust her. She came by for a visit, I gave her my budget and I told her the kitchen also needed to serve as a cooking set for videos on our social media platforms. I was looking for a neutral-colored design that also had unique touches a cook could appreciate. She provided me with a design, totally got my earthy vibe and here we are at the very beginning of making this dream kitchen happen. Yesterday they gutted the kitchen and it looked so strange having everything empty in the room I spend the most time in.
It has taken decades to reach a point in my life where I can upgrade the room in the house that means the most to me and carries the most memories. I've been forced to make many sacrifices along the way and it taught me the same resourcefulness my mom had growing up. When I can't find a rolling pin, I've learned a sturdy glass can do the same job. When my food processor is dirty, I use the Ziploc baggie method to grind nuts or graham crackers to a fine powder. Having a below average kitchen gave me character and I love that I was able to appreciate the positives of every kitchen I had no matter how small or simple it was. Having a new kitchen doesn't even seem real yet but I promise to appreciate every inch of it. My wife will finally get out of cooking chores because I won't trust her in the new kitchen. She is thrilled! My kids are out of the house so I won't have to worry about them trashing it. The best part is I can welcome all of you into my kitchen on a regular basis. I can't wait to show you how I use my Hippy Pilgrim products in every meal! Many of my customers have begged for more cooking videos and I will finally have a warm and cozy space to do it in. Be sure to follow us on Instagram @hippypilgrimgarlicsalt and Facebook @HippyPilgrim for updates on the kitchen progress. Can't wait for the big reveal when it's ready at the end of the month! It's been a long time coming and I'm grateful all of you are here with me for the ride! Xoxo Susannah